Finding the right metal detector for your specific needs is crucial regardless of whether you are a beginner or experienced. So, looking for the one that matches your current skill level would be best. Remember that when choosing metal detectors, you can find many options on the market.
There are several factors to consider when looking for the best metal detectors, including the type of metal you want to detect, the terrain you will use the detector, and your budget. Some popular metal detectors for different purposes include:
Minelab GPX 5000 – This detector is suitable for gold prospecting and can detect small nuggets at deeper depths.
Fisher F22 – This mid-range detector is suitable for detecting a wide range of metals, including coins, jewelry, and relics. It is also suitable for use in a variety of terrains.
Garrett Ace 250 – This budget-friendly option is suitable for beginners and can detect many metals, including coins, jewelry, and relics.
Ultimately, the best metal detector for you will depend on your specific needs and preferences. It is a good idea to research and read reviews from other users before making a purchase.
However, these devices come in different types and variations. As such, they have a variety of features in terms of functionalities. Therefore, it is clear that choosing the right one might be confusing at times. This article will teach you about some of the best metal detectors. That way, you can make an informed decision before buying one.
Best Metal Detectors For You To Buy
Teknetics Metal Detector T2 Classic
When it comes to user-friendly design and comfort, the Teknetics T2 Classic metal detector should be the best choice. Also, if you are looking for something that costs you less compared to other products with great features, this metal detector is the ultimate choice. This innovative device features a 13 kHz frequency rate.
It comes with a big display as well. Undoubtedly, the metal detector will impress you with its big LCD screen. However, the screen isn't backlit, so you can't use it in low-light conditions. Also, it has a simple menu alongside a two-digit target ID.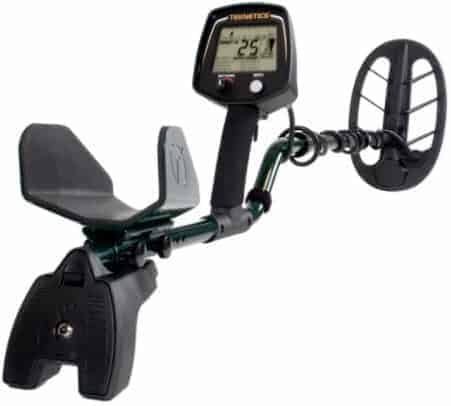 The best part about T2 Classic is that it detects and finds out about 15 inches deep coins. When it is about another remarkable feature that you can find in this amazing metal detector is that it has manual ground balance with discriminate and all-metal operating modes.
Also, you can find the sensitivity setting on the device that allows you to set the right frequency needed for the operation. Moreover, you can find out that this device's double filter discrimination modes perform a lot better in certain areas with hidden trash. However, this metal detector doesn't have the automatic ground balance feature.
It means that if you are a beginner, you should avoid it. Furthermore, the waterproof coils are handy, and you can use them in shallow water with little depth without hassle. Almost every modern-day metal detector has waterproof coils because it is an important must-have feature.
Product Highlights
Search Coil: 11″ Biaxial Coil
Frequency: 13 kHz
Warranty: 5 Year Limited
Total Weight: 3.6 lbs (1.6 kgs)
Audio: Built-in 1/4″ Headphone Jack
Ground Cancellation: Trigger-Actuated FASTGRAB™ Instant, Tunable Ground Cancellation
Discrimination Control: Double Filter Discrimination Modes For Searching In Trashy Areas
Digital Target ID: 0 to 99 Target ID Scale Offers Increased Ability to Distinguish One Target's Conductivity from Another
In short, Teknetics T2 Classic is a great solution for you when looking out for something important. Moreover, it can easily handle simple gold hunting tasks with the help of applications specifically designed for this purpose.
To summarize, the T2 Classic is an option if you are into relic hunting. That's because it can search deeper than other metal detectors on the market. It is a highly recommended product that takes your hunting skills to a new level.
Garrett Metal Detector Ace 400
This device is the best contender for an entry-level metal detector. While the Garrett Ace 400 is expensive, it has great features you won't find elsewhere. In short, it has features that cheap metal detectors don't have. The Garrett Ace 400 has digital target recognition as well.
And that makes the device stand out from its competitors. The scale has iron and foil at the edge and ranges between 0 and 99. Because of this feature, the Ace 400 is more efficient compared to its predecessor.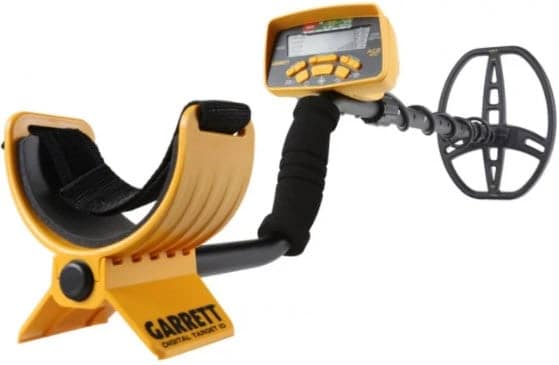 Another fact that makes the Ace 400 the best in its class is that the low-cost models have a basic visual recognition feature. There are lots of important features that you can find in the Ace 400. Moreover, Garrett's signature Iron Audio comes along with this model. And this is something that the company hasn't included in their cheaper models.
With the Iron Audio feature, you can hear scattered iron targets clearly without hurdles. It filters out the signals so you can listen to them loudly and clearly. It provides an incomparable experience, so you should have this device. The Ace 400 is sensitive and the best device to meet your needs.
Apart from the features, it helps you to distinguish between garbage and useful objects. As a result, you will spend less time finding the right objects rather than wasting time on unnecessary items. However, not everything comes with only the good things, and the Ace 400 is no exception.
Product Highlights
Total Weight: 2.9 lbs (1.32 kgs)
Frequency: 10 kHz Frequency
Warranty: 2-Year Limited Warranty
Digital Target ID: Scale of 0 to 99
Audio: Three Distinctive Tones Based on Metal Type and Conductivity
Discrimination Control: Modify Discrimination Patterns by Eliminating Individual Notches
Iron Audio™: Hear Iron Targets That Have Been Discriminated Against
Coin Depth Indicator: 2″, 4″, 6″ & 8″ Depth Indicators
In short, this metal detector has a few loopholes too. You have to rely on the automatic or manual ground balance. And this could have an impact when you are on mineral-rich or damp soil. Besides, the metal detector isn't compatible with underwater detection.
But the in-built coil is waterproof, and you can use it. The Garrett Ace 400 is one of the best metal detectors if you are looking for a model that provides great value for money.
The next one on the list is a popular brand that has produced amazing metal detectors for some time. The Fisher F75 comes with various handy features and is a great alternative to some popular brands. Designed to be used for an extended period, the F75 provides the need of both experts and beginners.
If you are looking for something with great design and build quality, the Fisher F75 should be the right choice. While it isn't the lightest metal detector you can find, the F75 is too heavy for you to move around. It provides the perfect balance for your needs, and you won't have difficulties operating it for longer hours.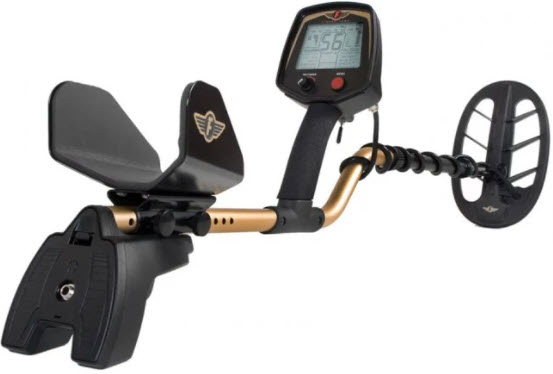 Moreover, this device works effectively in iron-infested areas. This is because of the two-way filter modes that help to ignore iron signals. Precisely, the F75 provides great scope and visibility.
So, whether you are operating in the nearby parks or hunting in the wilderness, this metal detector won't fail to satisfy you. This device has a frequency rate of 13 kHz and is considered a VLF detector. Furthermore, the frequency rate is way higher than the entry-level metal detectors you can find.
You can hardly find any discrepancies with this model. However, the waterproof control in F75 is not much impressive as you can expect from a normal VLF detector. So, if you are constantly looking for detecting metal underwater, the F75 might not be the right choice.
Product Highlights
Frequency: 13 kHz
Warranty: 5 Year Limited
Total Weight: 3.5 lbs (1.6 kgs)
Operating Principle: VLF Induction Balance
Ground Balancing Range: From Ferrite to Salt, Inclusive
Pinpoint: Trigger-Actuated Target Pinpointing with Variable Audio Pitch
Powered by two AA batteries, this metal detector can operate smoothly for up to 40 hours straight. Given its ability to search for specific items, the F75 works best for experienced users who instantly recognize false positives. Despite its multifaceted nature, the Fisher F75 provides amazing results while executing seashore hunting.
In a nutshell, the F75 is one of the best metal detectors you can find. While it doesn't have advanced features like some of the models available on the market, it does a remarkable job overall. It provides great flexibility, tolerance, and depth needed to collect coins and relics regardless of iron trash environments.
For good reasons, Garrett Pro AT is the favorite metal detector of many relic hunters. It is perhaps one of the best metal detectors for detecting coins and offers you great value. While some might consider it an expensive product, the features and results outweigh the pricing.
From underwater jewelry to relics, this device stands out from the rest when detecting almost every kind of metal. The best part about this metal detector is that it provides extreme flexibility. With this wonderful device, you can search for missing trinkets in wet or dry mud, underwater hunting, and so on.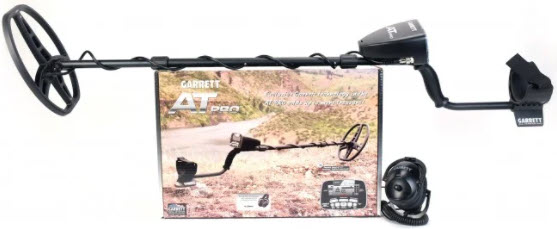 The Garrett AT Pro gives you the best performance in almost every aspect. Moreover, the audio mode you can find in this metal detector is an interesting feature you can't afford to miss. Also, the pro-setting provides an audible destination ID that helps determine the size, depth, and target shape when you use the device in standard mode.
Besides, you can also take advantage of the Iron Audio ID feature. The AT Pro is a great device that is perfect for coin hunting. And this becomes possible because of the 15 kHz frequency rate that it offers.
While the AT Pro has a slightly higher frequency rate than Teknetics T2 and Fisher F75, which reduces depth, making the device efficient in detecting smaller objects and coins. Apart from producing impressive results in underwater searches, this metal detector works wonders in saltwater.
Product Highlights
Search Coil: 8.5″ x 11″ Elliptical DD Coil
Construction: Waterproof up to 10ft or 3m Deep
Warranty: 2-Year Limited Warranty
Pro Audio Modes: Select a Pro Mode and listen more carefully to targets with the Tone Roll Audio feature.
Headphones: Wired LandMS-2 Headphones
You can use the waterproof design that works effectively for up to 10 feet. Hence, the AT Pro is made for you if you desire to search for items underwater. However, the headphones provided with this device aren't waterproof. So, if you wish to use headphones underwater, you need to buy waterproof headphones separately.
One of the probable downsides of this device is the absence of a backlit LCD. Hence, you can't use the device effectively in low light or dark conditions. Despite some of the minor discrepancies, this metal detector gives an all-around performance when used to detect objects.
The last one on this list is the XP DEUS, which is a piece of great metal detector for people who have lots of experience when it comes to detecting metals. As you know, metal detecting is a great hobby, and you can only improve if you keep exploring it.
The XP DEUS metal detector houses a variety of features that are meant for advanced users. Moreover, it is one of the more expensive models you can find. But if you want to get the best out of what you do, you can choose this device without hesitation.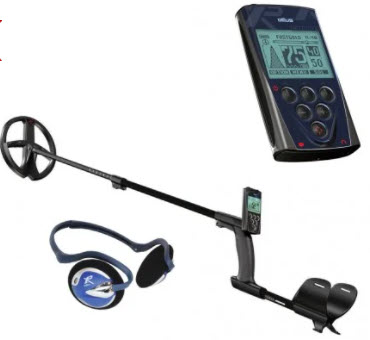 Perfect for coin, relic, and beach hunting, the XP DEUS has intuitive features, making it one of the most popular metal detectors. The control unit consists of multi-frequency rates of 18 kHz, 12 kHz, 8 kHz, and 4 kHz, along with a plus/minus shift.
Overall, this metal detector has functions and settings that you can expect from a high-end device. Some features include noise sensitivity, audio response, discrimination, multi-tone, ground balance, nine pre-configured programs, and so on. The notch option available in this device is great for detecting a variety of ranges.
Product Highlights
Search Coil: X35 11″ Round
Construction: Waterproof Search Coil (Non-Waterproof Control Box)
Warranty: 5-Year Limited Warranty
Frequencies: 35 Frequencies from 3.7 kHz to 27.7 kHz
Headphones: Wired FX02 Headphones
There is no question that the XP DEUS is one of the smartest devices that is built specifically for seasoned users. The multi detectors feature that comes with it helps you to avoid buying separate devices to detect gold, coin hunting, and relic hunting. Despite the high price tag, it provides you with sheer performance.
Also, it has great responsiveness, powerful present programs, and is lightweight. There is so much that XP DEUS has to offer. So, when you are looking for a high-quality, flexible metal detector that works wonders for different purposes, you should buy this.

What To Look For Before Buying a Metal Detector
Here are some important factors that need consideration before buying the right product.
Operating Frequency – If the device has a high frequency, it is less sensitive toward smaller objects.
Target ID – It helps you to decide the value of the detected object
Sensitivity – With high sensitivity, you can pick signals from small targets like gold nuggets
Coil Size – If you want to detect deep targets, opt for a device with larger coils
Discrimination – It allows you to ignore the metals that you don't need
Conclusion
Buy the best metal detector to find any treasure or metal. Hence, check all the product's specifications before buying and try to choose the one that better meets your needs.